Deluxe Luna Bean™ Baby Hand and Foot Casting Kit by Casting Keepsakes
Cast both of your baby's hands, both feet, baby's bottom, and more!
Freeze time when you cast your baby's tiny little toes or fingers.
The baby hand and foot casting kit makes the perfect gift for new moms.
The Luna Bean baby hand and foot casting kit contains the materials and instructions for 7 castings: 3 hand castings (with or without an integrated base), 3 foot castings and 1 cast of baby's bottom (which instead could be used to create another hand or foot casting).

Finish Choices
(see photos for comparison to unfinished): clear semi-matte sealant, clear glaze, pearl, bronze, 14k gold, silver. Note: both the glaze and the matte sealant can be used as a top coat over other paints.
Overall, the materials will accommodate a foot up to about an infant shoe size 3 (the average age for this is 9 months) and/or an infant hand up to about age 12 months. However, every child is different and if you are unsure, measure the baby's foot. (The foot casting tray is about 5 inches long and you want to have a little wiggle room.) The Party Packs are available for larger quantities castings and/or larger castings.
ITEMS INCLUDED :
7 bags of molding powder in 2 sizes
7 bags of casting stone
5 reusable molding containers in 3 different shapes/sizes
Mixing spoons & sticks
Disposable stone transfer pipette
2 paint brushes & choice of finish
Sanding papers & detailing pin
Hole punch (for optional baby bottom ribbon attachment)
Complete instructions
Customer Reviews
Works great
I didn't like the fact that the Tupperware containers were old lunch meat containers because it was sooo pricey but it really works great! I wish I would've done a little more research and I could've just bought the refills and used my own lunch meat containers and saved some money.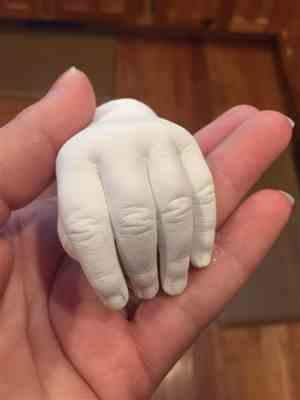 08/02/2019
CastingKeepsakes
You will be please to know that we DO NOT use "used lunch meat" containers in our kits. It is possible they may look similar to those that are manufactured for other industries, however. If you have previous experience with the kits and have your own containers, you may certainly purchase just the refill powder sets.
Great product.
Please buy this. Imagine doing your child's hand at a young age and being able to hold it once they graduate. My kids are 3and 4. They were easy I did this also on my 9month old sleeping niece and she moved a still yet it came out pretty good. They details came out great and I even did my own hand. Can't wait to see it again when I'm older and to see how young and youthful my hand once was.